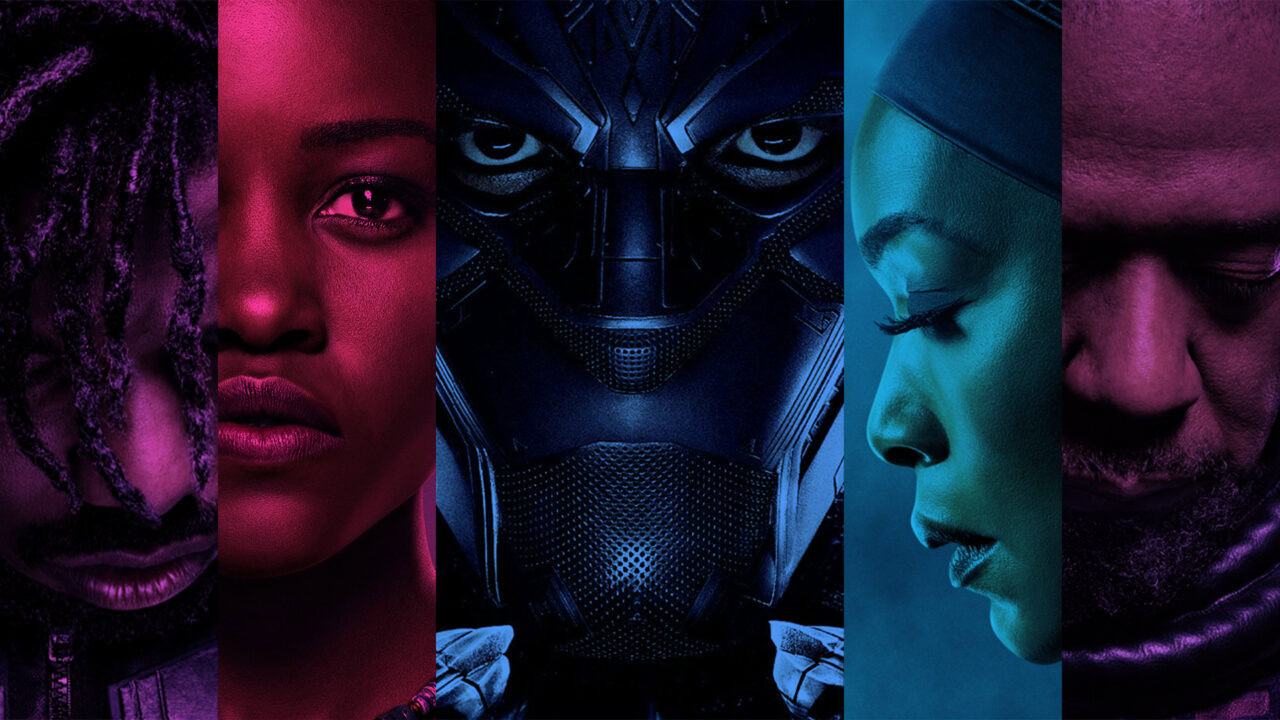 Marvel Studio's Black Panther box-office projections could once more prove to Hollywood that black buying power is a growing force worth tapping into.
Black Panther recently set a Marvel Studios record for first-day ticket pre-sales, beating out 2016's Captain America: Civil War and jump-starting a potentially record-breaking first week at the box-office.
It's estimated that the movie will gross $80-85 million. A modest number if you've had an ear to the streets these past few months.
Based on Marvel fanboy/fangirl hype and the never-ending hum of the gossip machine, we could conceivably see these projections soar.
Black Panther features a 90% black (African/African American to be politically correct) cast and is directed by Ryan "for-the-culture" Coogler who also directed Fruitvale Station and the highly successful Creed. Shouts out to Michael B. Jordan for the trifecta.
To top that off, the Black Panther opens smack dab in the middle of THE blackest month of the year. It don't get no more "woke" than that.
Let's not even talk about the film's peripheral hype—the soundtrack, the merchandise…heck, people are even already talking about a freakin' sequel.
K-Dot even recently confirmed he would be producing Black Panther: The Album. Which if you don't know, is a big deal.
Check out All the Stars featuring SZA.
As you'd expect, social media is going absolutely bananas over the film. Even Lupita Nyong'o who plays Nakia in the film couldn't get pre-sale tickets to her own movie:
Power of the Black Dollar
But let's be real for a minute.
We know for a fact that brown and beige folks are lining up by the masses—black berets in tow, ready to bumrush the theater gates on opening night. Droves of folks packing out party buses with pockets and purses lined with corner store snacks. You know how we do…
If you really think about it, it's really not that much of an exaggeration. But let me throw some numbers at you nerds for some persuasion.
There are 43 million African Americans in the United States (13.7 percent of the total population)—a number that's constantly rising.
Let's pretend for a second that somewhere between a quarter to a third of that population will go see the movie. And that's just here in the states. That's not even counting what the film could do internationally.
Still reaching, you say?
If you're thinking I'm slightly buggin' on my little guestimation, check this. Statistics support, that in terms of dollars spent, we are a money machine—and one that keeps growing.
Black buying power is a real thing; so real, in fact, approximately 1.2 trillion in dollars spent (in 2016) will have nearly doubled by the year 2020. Nielson the global measurement and data analytics company, had this to say about black spending:
The growth in black buying power stems in part from an increase in the number of black-owned businesses as well as from an uptick in education among the African-American population, which leads to higher incomes. Despite historically high unemployment rates, Blacks have shown resiliency in their ability to persevere as consumers."
To put that in perspective, annual government, federal, state, and local spending combined were guestimated to have spent somewhere around $6.4 trillion in 2015. Black buying power accounts for 8.7 percent of the nation's total.
Whether you acknowledge the correlation between Black Panther's box-office success and black spending you can't ignore the fact that Marvel may be capitalizing on black spending with its latest experiment release.
But where are the other Black Panther-like movies?
Even with this state-like buying power, most mainstream advertisers are not quick to include brown folk in their marketing campaigns nor big-budget studios apt to featuring them as leads in their big-budget films.
Don't get me wrong, we love our Denzel's, Smith's, Berry's, etc but we are very much the minority when it comes to positive leading roles in major motion pictures.
And when we do get the roles it often involves portraying characters with compromised morality or who perpetuate negative stereotypes.
If we take a quick look back in time we'll see a handful of movies where the most obvious choice for leading role(s) was passed on for a less culturally-appropriate actor/actress. Here are a few recent films to white-wash minority roles:
Crazy right?
Could Marvel Studios lead them all?
Don't get me wrong. The black lead in a major motion picture is no revolutionary idea, but we have never seen a movie of this magnitude (at least I can't recall) with a marketing machine this massive combined with this much minority representation.
We can point to the amazing success of Marvel's Blade trilogy to see how thirsty fans have been for a black superhero on the silver screen. But despite the success of the Marvel–Snipes relationship, there hasn't been a black lead for a superhero film since 2004.
The closest we black folks came to talking about this much brown is when Neftlix announced Marvel's, now recently canceled, Luke Cage series.
If Black Panther and it's early success is any barometer of its final talley—it will be a smash hit.
But—who's cashing in?
Even with all this melanin-poppin', black-is-beautiful magic happening, box-office success still means the big dog movie studios secure the bag and take home the big clearing-house-sized check. You see, its unfortunately always a bit of catch-22. This Twitter user had this to say about it:
It brings up a good point about how we view cultural milestones. Often times African Americans and other minorities are forced to accept what I call "trophy victories" due in part to a shortage of actual, definable victories in our fight for equality aka "the black struggle".
Perhaps this is over analysis and this is a moment in history I should be grateful for but our society has a way of turning even the most hopeful dreamer into a cynical bastard. It's safe to say that we have to take all of this with a grain of salt.
We still lit though!
Regardless, I choose to be hella excited about this movie—the cast, the plot, and what it represents for a population of people who sometimes just want to see stories about people who look like them, no matter how fantastical and fictional the stories may be.
Simply put, Black Panther is the breath of fresh air we've been waiting to spend money on. I gladly say, take my money!
———
Black Panther, opens in theaters Feb. 16 and stars Chadwick Boseman, Forest Whitaker, Lupita Nyong'o, Angela Bassett, Michael B. Jordan, Letitia Wright, Winston Duke, Martin Freeman, Danai Gurira, Daniel Kaluuya, and Andy Serkis.
Join the Conversation
Want a little more of everything cool?
Get the weekly digest when you sign up for our "Everything cool" mailing list.